Machado Week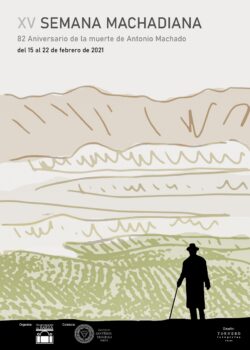 The Machado Week [Semana Machadiana] as such dates to 1997, specifically from 20 to 27 April, as a tribute to the memory of the poet Antonio Machado who spent seven years, from 1912 to 1919, teaching French in the then General and Technical Institute in Jaen, one of the first in the province and heir to its university.
The reason at the time was the inauguration of a bas-relief dedicated to the poet to replace the monolith damaged in a chance accident in the Patio del Instituto. The school made the call to set up an Organising Committee with a broad social base, in which several institutions were represented, such as the Baeza Town Council, the "Stma. Trinidad" Secondary School, Teaching Centres, AMPAS (parents boards) and individuals who shared their admiration for Machado's work. Several activities were thus promoted to pay homage to Antonio Machado, given the importance and transcendence that his stay had for his work and thought. The aim was to ensure his presence remained throughout the week through an array of artistic manifestations, with numerous events taking place, and this meant the reunion of Machado and Baeza.
Among the numerous activities carried out there is one that has survived over time, the Machado Walk, a poetic itinerary around the places that the poet frequented during his time in Baeza, the poet's house, the Casino, the Paseo, the Aula de Antonio Machado in the Instituto Santísima Trinidad, the Cathedral… ending at the monument commemorating Antonio Machado by Pablo Serrano. This walk is open to all kinds of people who spontaneously read his poems at the "stops".
The activity did not cease altogether in the preceding years, as occasional events and the Machado Walk were still done, but the Machado Week as such was rescued in 2008 as the perfect excuse to invite the public to reread the poet's work, get to know the lesser-known aspects of his work, contribute new approaches to the study of one of the most influential poets in contemporary literature and with whom, fortunately, the city maintains cultural and intellectual ties through his literature and his life. The format has changed little and is held around the 22nd of February, coinciding with the anniversary of his death.
With this, one of the commitments maintained since the recovery of this week has been accomplished, which is to involve the locals, through the greatest number of cultural agents, with the help of the UNIA and its facilities, the Instituto Santísima Trinidad and the local educational centres, where the figure of the poet forms an essential part of the curriculum.
Following the initial format, there are gatherings, conferences, recitals, concerts, theatre and the Machado walk, and the International Poetry Prize is still being held.