Early Music Festival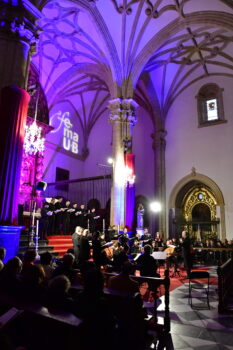 VNITAS ET DIVERSITAS
The Early Music Festival of Úbeda and Baeza [Festival de Música Antigua de Úbeda y Baeza (FeMAUB)] was born in 1997 to add a musical event to the artistic and cultural attractions of both cities, jointly declared World Heritage Sites by UNESCO in 2003. In its report, UNESCO stressed the cultural union and the important contribution of both cities when bringing Renaissance ideas from Italy to Spain and exporting their artistic postulates to Latin America. The history of the Festival is linked to the urban landscape of Úbeda and Baeza and to the many Renaissance spaces that serve as auditoriums. Moreover, FeMAUB has been projected from the cultural capital of Úbeda to the rest of the province of Jaén through the Vandelvira Cycle, hosting concerts in churches, palaces and castles designed by the famous architect Andrés de Vandelvira (1505-1575).
FeMAUB is a thematic event commemorating a specific aspect of historical music from multiple perspectives in each event that include not only concerts (organ, didactic, parades, social, etc.) but also exhibitions, informative conferences, courses and high-level congresses. Since its origins, it has been committed to recovering and disseminating the Iberian and Latin American musical heritage, showcasing this vast yet sometimes forgotten part of Hispanic culture through premiere concerts and world-first recordings. Since 2013, FeMAUB has acted as an Observer Promoter of R&D+I projects of the Spanish National Research Council (CSIC), as it is considered a paradigm knowledge transfer to society.
The Festival has positioned itself as a cultural benchmark event in Andalusia and as one of the most important specialised festivals on the continent. It was the first Andalusian festival to join the European Early Music Network (REMA), to which it has belonged since 2007. The following year it joined the Spanish Association of Classical Music Festivals (Asociación Española de Festivales de Música Clásica, FestClásica), with which its programming was included in the national and international circuits as an independent entity. Furthermore, FeMAUB's membership of these networks is international recognition of the quality and originality of its programming. Among the awards received are the "Best Cultural Institution of Andalusia" prize (El Público-RTVA2006) and the EFFE Label 2017-2018 quality seal (Europe For Festivals), which recognises the excellence of festivals that stand out for their innovative dimension, commitment to the European project and creation of new audiences.
FeMAUB is currently organised by the Junta de Andalucía, the Diputación de Jaén, the Town Councils of Baeza and Úbeda and the International Universities of Andalusia, Jaén and UNED (through the Úbeda Associate Centre). The Ministry of Education, Culture and Sport, the Centro Nacional de Difusión Musical and the Bishopric of Jaén, among other public and private entities, have joined the original initiative of the governing institutions making the event a meeting point and contributing to the blossoming of a new Golden Age in both cities and the entire province of Jaén.