Heritage Night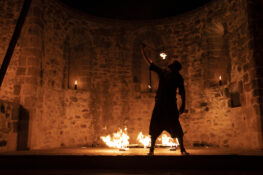 Baeza bursts with culture and heritage in the celebration of Heritage Night.
The Heritage Night was first held in 2018 to coincide with the 25th anniversary of the founding of the Group of Heritage Cities, the European Year of Cultural Heritage and the 15th anniversary of the declaration of Baeza as a World Heritage Site. It was held simultaneously in the 15 cities that make up the Group of World Heritage Cities of Spain.
The Heritage Night. The Heritage Night, an event that was a great media and participation success, and which, with its name, is a tribute to the cultures and languages of all the cities of the Group, which represent the diversity and richness of our country. The Heritage Night is held in September and is divided into three sections which include contemporary performing arts (EscenaPatrimonio), open days at monuments (AbiertoPatrimonio) and a wide range of cultural and leisure activities in our historic centres (VivePatrimonio).
That night becomes a great simultaneous celebration of Heritage with a participatory and social vocation, a collective celebration of neighbours and visitors to show the pride these 15 cities feel for working together in the common interest and, above all, for being Cities of All Humanity.
The declaration of World Heritage is a distinction granted by UNESCO to assets and sites that bear the features of exceptional value that make them unique worldwide. For Spain, as the third country with 47 entries on the World Heritage List, this event is of special importance and highlights the extraordinary value of our country's cultural heritage.
The Group of World Heritage Cities of Spain is a non-profit association declared of "Public Utility" made up of the fifteen Spanish cities declared World Heritage Sites: Alcalá de Henares, Ávila, Baeza, Cáceres, Córdoba, Cuenca, Ibiza / Eivissa, Mérida, Salamanca, San Cristóbal de la Laguna, Santiago de Compostela, Segovia, Tarragona, Toledo and Úbeda. We strive for these City Councils to coordinate and work together on the conservation and promotion of the enormous historical and cultural heritage of these cities, which are a true international benchmark in cultural tourism and enrich and reinforce the Spain Brand.