International Festival of Young Performers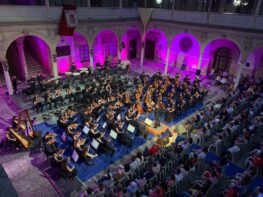 History
In 2011, a new educational and cultural project emerged in Baeza called City of Baeza Musical Specialisation Seminar [Seminario de Especialización Musical Ciudad de Baeza]. Since the first editions, the organisation has grown, extended to other artistic disciplines and developed an extensive programme of training and dissemination of music which has reached more than a thousand students from all over Spain.
With this progress, the Musical Seminar consolidated itself on the national scene as a benchmark centre for musical education in the summer months, giving rise to the birth of BAEZAFEST, a festival dedicated to young performers of music and performing arts that comprise a wide programme of concerts and activities.
Thanks to the collaboration between the City Council of Baeza and the Asociación Musical Ciudad de Baeza –formed by over 700 people who develop intense artistic and cultural work– BAEZAFEST began its journey in 2017 to offer young people a space to develop their creativity but also an alternative between the formative world and the professional life. Therefore, its main aims are youth, artistic training and in-house productions.
Youth, because it is a festival that aims to turn Baeza into the cultural capital of young performers in Andalusia, sponsoring and programming concerts and musical projects made up of young people.
Training, through the Musical Specialisation Seminar, designed for young performers to complete their studies through an educational programme in place since 2011.
In-house productions, because they highlight the creative and musical potential that the Asociación Musical "Ciudad de Baeza" imbues in its musical projects, offering the public different visions of Baeza's culture.
Under these premises, BAEZAFEST is held every year between June and July, expanding the tourist-cultural offering and making music and arts another factor in the promotion of our city and, above all, a way of educating and highlighting the artistic wealth of this Renaissance environment as a result of its architecture and inhabitants. A festival with great aspirations that aims to occupy a permanent space in our national and international culture, making our city known for its heritage but also its commitment to youth, arts and music.